Click here to view or print the entire monthly report compliments of the ACRE Corporate Cabinet.
Sales: According to the Greater Alabama Multiple Listing Service, Birmingham metro-area residential sales totaled 1,071 units during October, 5.8 percent below the same time last year. Total home sales during October 2016 were 1,137. Year to date, Birmingham-area sales are up 7.4 percent from the same period in 2016. Two more resources to review: Quarterly Report and Annual Report.
For all of the Birmingham area's housing data, click here.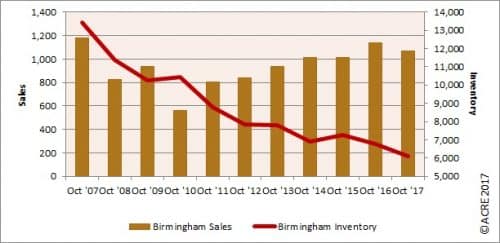 Forecast: October sales were 89 units below the Alabama Center for Real Estate's (ACRE) monthly forecast. ACRE's 2017 sales forecast through October projected 13,011 closed transactions, while the actual sales were 12,662 units.
Supply: The Birmingham-area housing inventory in October was 6,087 units, a decrease of 10.2 percent from October 2016 and down 54.7 percent from the October peak in 2007 (13,438 units). October inventory in the Birmingham metro area decreased by 2.7 percent from September.
According to the Greater Alabama MLS, in the Birmingham metro-area market, there were 5.7 months of housing supply during October. The "months of housing supply" is a simple calculation – homes listed (supply) divided by homes sold (demand). In general, about 6 months is considered the point of equilibrium.
Demand: October residential sales decreased by 11.9 percent from the prior month. Historical data indicate that October sales, on average (2012-16), decrease from September by 13.2 percent.
Existing single-family home sales accounted for 85 percent of sales, while 11 percent were new home sales and 4 percent were condo sales.
Pricing: The median sales price in October was $197,980, an increase of 10.1 percent from October 2016 ($179,900). The October median sales price decreased 2.1 percent from September. This direction is consistent with historical data (2012-16) indicating that the October median sales price on average decreases from September by 3.8 percent. Pricing can fluctuate from month to month as the sample size of data is subject to seasonal buying patterns. ACRE recommends consulting with a local real estate professional who has access to pricing data at the neighborhood level.
Click here to generate more graphs from the Birmingham October Housing Report, including Total Sales, Average Sales Price, Days on the Market, Total Inventory and Months of Supply. 
The Birmingham Residential Monthly Report is developed in conjunction with the Greater Alabama MLS and the Birmingham Association of Realtors to better serve Birmingham metro-area consumers.